Our Clergy Team
The Rev. Rondesia Jarrett-Schell
The Rev. Rondesia Jarrett-Schnell grew up in a military family and lived all over the world. She has over 10 years experience in parish ministry, school chaplaincy, youth, and young adult ministry. She holds a B.A. in Communication from Gonzaga University and an M.Div from The Church Divinity School of The Pacific in Berkeley California. Rondesia believes God accepts us for who we are and we are wonderfully made. It is why she believes social justice is a major part of Christianity. Plus, she is a big sci-fi and comic books geek.
The Rev. Linda Kaufman is from Seattle, but her family moved a few times, ending up in northern Virginia, where Linda attended high school and her father raised beef cattle on a farm in Round Hill. Her religious background is Lutheran and Evangelical Charismatic Episcopal. After attending George Mason and majoring in elementary education, she landed a very good job as a consultant in performance problem solving. At 30, she had what she thought would take her until she was 60to accomplish. She should have been content, even happy. But something was missing.
Linda went to church one Sunday, and it changed her life. In the fall of 1977, she committed herself to Christ and soon entered seminary. At first she only meant to get a PhD and teach, but some of her professors suggested ordination. So she attended Virginia Theological Seminary for her last two years. It was there that she met Jack Woodard, former Rector of St. Stephen's and an adjunct professor, who told his students that they were too pietistically insular, too set apart from the real world. The next weekend, Linda spent the night in a woman's shelter in Washington. She realized two things: that she had been called to preach, and that she had been called to be out on the streets. She was soon ordained.
​
In the fall of 1997 she attended St. Stephen's at the urging of Bishop Jane Dixon.
She and Liane Rozzell had a commitment ceremony in 1998. Linda and Liane are parents to Ryan and Jamal.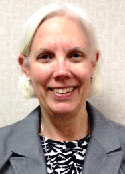 The Rev. Susan K. Walker, Deacon
The Rev. Susan K. Walker, Deacon, grew up in Nashville, Tenn., attending the Episcopal Church. She studied English and prepared to teach by earning a Master's degree at George Peabody College. Since 1976, she has lived Alexandria, Va., where she raised two children, and since, 2008, has lived with husband Carl Scheffey. Her work in the church began as a volunteer before taking a staff position as Volunteer Coordinator and Director of Evangelism at Christ Church, Alexandria. She worked for several years in geriatric mental health services and was trained in chaplaincy at St. Elizabeth's Hospital. Both environments gave Susan direct experience with the poor. She reentered parish ministry, but in an urban setting, Epiphany, downtown Washington, where the Sunday breakfast program offered more relational work with the city's marginalized and underserved.
Susan graduated from the Washington Theological Union with a Master of Theological Studies and a certificate in Spiritual Direction Studies. She offers spiritual direction at Virginia Theological Seminary. A 30-day Ignatian retreat was a life changing experience which ultimately led to ordination as a vocational deacon in 2012. In 2013, she completed a certificate program on the Process of Aging at the Washington School of Psychiatry.
During the week, Susan works as Resident Services Director and Leasing Agent at St. Mary's Court, an apartment community for low-income seniors. On Sundays she serves as deacon at St. Stephen's 8am liturgy. After the 8am liturgy, Susan can be found downstairs with guests at Loaves and Fishes, passing out the day's gospel passage and chatting with anyone who looks interested. Being at St. Stephen's is learning what it means to be a deacon, that is, learning to be a bridge between the church and the world. Loaves and Fishes is a great place for that. Susan welcomes others to join her.
Children's Christian Education Coordinator
Jane Bishop's multi-faceted career of over 35 years provides a deep and wide toolbox of professional and personal skills to use in the service of God and families for Children's Christian Education and development at Saint Stephen and the Incarnation Episcopal Church.
As a cradle Episcopalian who has lived around the world, she is well-grounded in this denomination and has a global perspective and deep appreciation for diversity.
Her life has turned full circle as she began directing a Sunday School during graduate school and now continues here in semi-retirement.
Previously, Ms. Bishop worked as senior writer/editor on projects and publications for the Office of Head Start (OHS). With HealthMark Multimedia, Ms. Bishop managed teams of writers, edited, and interfaced with programmers to develop two e-commerce multimedia health education packages.
Prior to this work, Ms. Bishop provided project management and team leadership, curriculum development and English-language instruction from preschool through university in Egypt, Singapore, and the United States.
​
Education and Certifications
Certificate (Distinction), TESOL, SEAMEO Regional Language Centre, Language Teaching Institute, Singapore, 2001
MA, Architectural History, Yale University, New Haven, CT, 1973
BA, First Class Honours in Fine Arts, McGill University, Montréal, PQ, Canada, 1971
Jane Bishop looks forward to assisting, developing, deepening religious awareness, competence, and excitement in children and the adults who serve on this team. Welcome to our circle of God's love in action and reflection.
Bilingual Communications Coordinator
Rocio is originally from Reading, PA and have been residing in the Maryland/DC area for about 2 years. Her background consists of tons of higher education experience along with some social work. Her educational background consisted of a lot of writing which is why she decided to work in this new role as the Bilingual Communications Coordinator since September 2019. She loves to write and her favorite form of writing is poetry.
A fun fact about Rocio is that she is a former member of the Episcopal Service Corps, participating in the program from 2014-2015. The program is a year long program that allows post graduates to take a vow of service/poverty in cities throughout the country. She completed her assignment in Los Angeles and it had a profound effect on her.
Michael Salmon has served as parish musician at St. Stephen and the Incarnation Episcopal Church since 2011, directing the 10:30 service choir, playing the organ, helping to plan liturgies, and engaging the congregation as they sing each week. In his other life he teaches fifth grade English, social studies, and math at Sidwell Friends School. Over the last 30 years Michael has served as an organist and choir director in a number of churches in New York, Pennsylvania, and Connecticut. He was inspired by the teaching of Stephen Best, Lee Spear, and Robert S. Baker and earned degrees from Hamilton College and Yale University. During his time at Yale he studied at the Institute of Sacred Music. He is also active in the Hymn Society of the United States and Canada.
Michael especially enjoys helping the congregation experience the spiritual power of singing together in community each week and choosing hymns and service music that reflect our diversity and strengthen our faith. He also enjoys learning and playing the music of J.S. Bach.
Director of Parish Operations
Mike has been St. Stephen's Director of Parish Operations since April 2016. He is a former Marine Corps Infantry Officer who has earned a BS in Engineering from Marquette University in Milwaukee, WI and an MBA from The University of St. Thomas in St. Paul, MN. Previously Mike has owned his own Management Consulting business, was President of two software start-up companies and was an Executive with AOL from 1996 to 2003.
​
Mike believes his widely diverse set of experiences, ability to prioritize and "calm under pressure" will prove to be his best contribution to the success of the church.
Manager of Loaves & Fishes
Denize Stanton-Williams is a native Washingtonian who grew up on 17th and Euclid Streets, N.W. She is the youngest daughter in her family and has a twin brother who lives in Minnesota. She attended H.D. Cooke Elementary School, Lincoln Junior High and Woodrow Wilson High School. Her collegiate years earned her a Bachelor of Arts Degree from York College of Pennsylvania, two Master of Arts Degrees, one from Notre Dame University of Maryland and the other from George Washington University. Currently, Denize is competing her Doctoral Degree from Morgan State University in Leadership and Administration.
Denize has been the Manager of Loaves and Fishes since 2013, and has been responsible for the weekend operation of the Loaves and Fishes Program during that time.